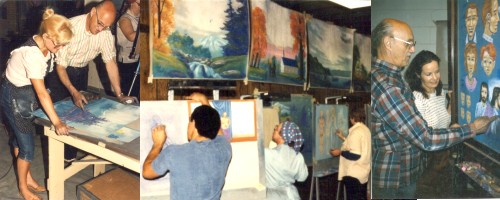 Our wonderful friend, Ding Teuling, the master of the invisible chalk picture, has gone home! I share your feelings of grief at our loss; but joy for his gain as our kind mentor, laid down his chalk yesterday.
He picked up his first stick of chalk and began his drawing over 70 years ago! We not only marveled at his brilliant mastery of each detail, but we also were touched that he was willing to share his techniques from an open heart with all who would love to learn.
But just like his hidden pictures that were so skillfully camouflaged so they could only be revealed when Ding turned on his black-light, we only witnessed a very small part of his genius… Because it was not until Saturday, September 3 at 7:25 PM, at 98 years of age, that God flipped on His black-light! What a miraculous, astonishing and amazing hidden picture must have been crafted. It all remains to be seen, when the angels gather his chalks and papers to form the beautiful mosaic that was the life and artwork of Ding Teuling.